Kitchenware, Utensils & Cookware from India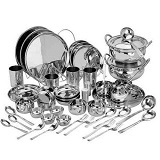 Every Indian kitchen requires two important things in the kitchen, some unique kitchen tools for preparing authentic recipes and unique utensils for serving the food and storing spices etc.


We offer the perfect set of tools & stainless steel utensils to arm the chef in his or her mission to prepare some of the most difficult recipes. There are kitchen utensils and a vast variety of kitchen appliances and tools. Lunch boxes or tiffin carriers, coconut scrapers, kitchen press for cookies in a variety of designs, dinner sets, drinking cups, ghee pots, stainless steel masala dabba, spice storage box, idli makers etc.- you name it and we have it.


These Indian kitchen tools and utensils also make unique gifts at housewarming or for people who love to cook Indian food or if you are looking for Indian restaurant equipment and utensil supply in USA.


We also offer restaurant supply for north & south Indian restaurants. Our wide catalog includes clay tandoors, commercial dosa grill and idli maker, buffet utensils and much more.
Featured Products
Most Popular
Kitchen
Indian Kitchenware, Utensils & Cookware Online Shopping
Saving time matters in your busy schedule and hence when cooking, you always want to have the right cookware, tools and utensils to help you just do that. Find great deals and discounts on kitchenware, stainless steel utensils and cookware from India like masala dabba, lunch box, dinner set, thali, idli maker, katori / bowl, glass, chakla belan, pressure cooker and Indian mixie and much more.

As a leading desi supermarket, our Indian store online is a one stop shop in the USA that offers best price and Free Shipping option within USA on 1000+ items to meet your daily shopping needs. Find great deals and discounts on traditional Indian cookware, kitchenware and stainless steel utensils from India like patila, degchi, karahi, masala dabba, thali / plate, idli maker, katori / bowl, glass, dinner sets, ghilodi and much more. We also offer commercial Indian cooking utensils and cookware for restaurants and catering houses.