Blouse, Peticoat & Fall for Sarees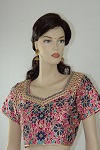 Saree is an elegant traditional attire for women in India. There are several things that goes along with wearing a saree. The most important ones are Petticoat, Blouse and the Sari Fall.

Petticoat - A petticoat is an underskirt (inskirt) that is worn as a skirt under the saree and has a drawstring waistband. Typically - the color of the petticoat must match the saree for it to look nice.

Blouse - A blouse for saree is fitted top for ladies to cover the upper part of the body. It may have sleeves or sleeveless. Generally it is short and leaves the midriff exposed. Some of the more fashionable blouses can be long up to the waist or hips for a more graceful and elegant look.

Saree Fall - The saree fall or border is an important piece for Sarees. It is long fabric about 4 to 5" in width that is stitched along base edges of the skirt part of the saree. It must be attached well to the saree in order to get a good drape.

Here are some additional accessories that go very well with Sari -
1. Matching Bangles
2. Matching Bindi
3. Traditional Chappal / footwear
4. Matching Clutch / bag


Our online site offers a wide assortment of stitched designer blouse, blouse piece fabric, petticoat and sari falls to many of your favorite sarees.
Most Popular
Petticoat & Blouse
Saree Blouse (Stitched & Fabric), Petticoat (Underskirt) & Sari Fall
Browse our collection of stitched and un-stitched blouse pieces, saree fall or petticoat which can compliment the look of the traditional Saree at any event.