Indian Groceries / Food / Spices / Lentils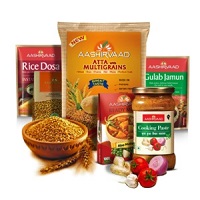 Your Indian grocery store online in the USA offering authentic desi groceries and delivering across USA. Grocery stores at this online Indian super market and get it delivered anywhere in the USA. Choose from a wide range of your favorite Indian spices & herbs, gourmet food, healthy Indian beverages, ready to eat meals or ice creams. Shop for products like basmati rice, atta, ghee, pickles, chutneys, masala, ready-to-eat instant meals and much more delivered to your home.


All the food that you loved in India is available at the click of a button. Shop for good quality authentic Indian groceries and most recognized brands you admire and miss like Brittania, Rooh Afza, Horlicks, Bru, MTR, MDH Masala, Haldiram, Gits, Vadilal Ice Creams and more with ease. We also have a wide range of Herbal products from Patanjali Ayurved Ltd, started by Yoga Guru Baba Ramdev and USDA certified organic Indian grocery from 24 Mantra.


Why drive, waste gas and stand in lines at stores when you can shop from the convenience of your own home at this Indian grocery supermarket. We deliver ethnic grocery to all the major cities across USA like New Jersey, New York, San Francisco, Los Angeles, Bay Area, Baltimore, Washington, Philadelphia, Pittsburgh, Raleigh, Charlotte, Boston, Atlanta, Phoenix, Chicago, Austin, Dallas, Fort Worth, Houston, Florida, Detroit, Cleveland, Seattle, Minneapolis , Miami, Tampa, Kansas City and many more.
Featured Products
Most Popular
Groceries
Buy Indian Grocery Online
Cooking authentic Indian food requires some unique spices and ingredients. Sometimes, it can be hard to find the masala you are looking for unless you search at an Indian store online. Our catalog offers premium quality groceries like Atta, lentils, gourmet food, spices, instant meals, lentils, flour, pickles, paste, biscuits and more from top Indian brands and delivers to your home across USA.