Culture & Learning Books from India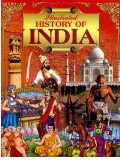 Magazines & books that you enjoyed back in India are now available for purchase and subscription in the USA with free home delivery option. Easily subscribe to Stardust and other bollywood magazines like Filmfare, Savvy, Society, Cineblitz & more to stay up to date on filmy gossip & masala. There are lots of choices for kids as well to teach them hindi alphabets and history so they stay connected with their roots. Additionally, you can also find books on topics such as business & economy, Indian history & culture, spirituality, biography, yoga, ayurveda, celebrity wisdom and regional language books like Gujarati, Marathi, Telugu, Kannada and Tamil.

Books from India. The collection includes biography, art, Indian history, religion and regional language books in Gujarati, Marathi, Telugu, Kannada, Tamil & a wide selection of Indian books & magazines for kids. You can purchase wholesale or retail from various online Indian stores.

If you want to sell filmfare, champak, grahshobha and other lifestyle & bollywood magazines online in the USA, please reach out to us and learn how we can help you setup your Indian magazine store online.

Featured Products
Most Popular
Indian Books
Indian History & Culture Books Online Shopping
Shop for books from India about it's culture, religion, history, language, celebrities, kids story books, economy and much more.