Handmade Khussa Shoes for Men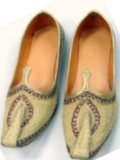 Khussa shoes are are handmade, comfortable footwear and are made generally in the norther part of India. They come in assorted colors and sizes and are also known as jutis, khussa, mojari, mochdi, maharaja or kolhapuri chappal.
If you are having a traditional Indian wedding, you may want to have these traditional wedding shoes that go well with Sherwani or Kurta Pajama. We carry a beautiful collection of groom shoes & jutis.
Men Shoes
Coupon Saving*
Handmade copper gold color khussa shoes / mojri adorned with sequins and zari work. These traditional style footwear are perfect for any wedding or formal parties. They go well with both ethnic and western outfits,

Size: 9
Color: Copper Gold
Material: Synthetic
stock # #3938
Save 20% with coupon*
Khussa Shoes Online, Indian Wedding Mojri, Gurgabi Sandals, Sherwani Jutti
Indian wedding shoes are also known as khussa, gurgabi or mojri. They are handmade shoes shoes with embellishments like embroidery, stone work and more. For grooms, these go well with traditional Indian outfit like dhoti, churidar or sherwani suit.