Handmade Designer Clutches & Bags from India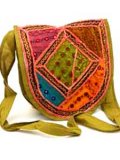 India is known for everything handmade, including Indian Handbags, Purses and Clutches. Depending on which Indian state you are buying these products from, you will probably see some local traditional prints on them, for example Chunri or Lahariya from Rajasthan or Batik from Orissa. The best places to buy these traditional handbags in India are handicraft trade fairs and exhibitions.

We bring you some of those handmade Indian designer clutches, handbags and purses - all the way to the USA. Most of the these bags are very colorful and are made using zari, stones, zardozi, beads & sequins. Buy online one of these bags to match your style and outfit and make your own style statement.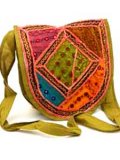 On Select Purses/Handbags and its subcategories
Only For Next 175 Customers
Expires: Dec 8, 2023 12:10:06
Featured Products
Most Popular
Purses/Handbags
Indian Bags & Clutches Online Shopping
Shop from a stunning collection of designer clutches, handmade bags, and evening purse from India.
Indian Handbags These handmade bags and purses are made using cane, cloth, beads & sequins. They are great for office as well as parties.
Trendy Handbags These handmade trendy clutches and purses are made using cane, cloth, beads & sequins and adorned with stonework, brooch and embroideries. They are great for office as well as parties, weddings and gifts.
Indian Purse & Clutch Handmade Evening Clutches, Indian Purse, Party Handbags