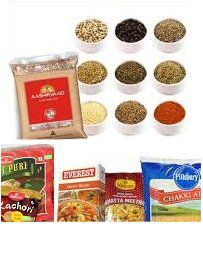 Our Indian grocery store offers premium quality groceries like atta, rice, dal, spices, masala, ready meals & fresh sweets online from home at best price with free shipping option and delivers anywhere in the USA.
People in India have a deep love for fresh desi food, and preparation of an authentic recipe requires special ingredients, spices and skill to make it easy. All the groceries, spices, sweets & snacks that you loved back home are now available here in the USA at our online Indian grocery store. Brands that you missed, like Brittania, Rooh Afza, Horlicks, Bru, MTR, MDH Masala, Haldiram, Gits and more can be ordered online. If you like to cook Indian food, you can also find many recipes to try your hand at some new authentic and best Indian dishes.
If you live in any of the following states like California, Texas, New York, Florida, New Jersey, Illinois, Virginia, Pennsylvania, Ohio, Maryland, Georgia, North Carolina, Massachusetts or Michigan; driving to an Indian grocery store to buy groceries can be a challenge. A trip to buy Indian grocery requires wasting gas, sitting in traffic and then standing in line at the store. Moreover, when you do not have an Indian grocery store nearby, buying groceries online is the best alternative. You can buy Indian grocery online from anywhere in the USA and use this time more productively with family & friends. Our prices are reasonable and we also offer free shipping on qualified orders.
We offer 2000+ authentic imported Indian grocery online like gourmet food, masala, spices & herbs, rice, atta, dals, pickles, ayurvedic health products, instant snacks & meals, shikakai, dry fruits and much more; all ready for quick home delivery anywhere in the USA and help you skip waiting in line at the grocery stores. For some of the popularly used lentils and spices, we also offer bulk wholesale groceries for restaurants and other retailers. We are also working hard to enhance our catalog for wholesale Indian grocery as well as add fresh produce, vegetables, fruits and frozen items soon. Shopping at desiclik.com is just like having an Indian grocery store near you with the convenience of home delivery.
Wondering where and how to sell Indian Groceries, Health & Beauty products, Skincare products, Yoga accessories, Patanjali Items, Henna Products, and fresh mithai in the USA? Please contact us and learn how we can help you setup your shop.
---
Shop Indian Grocery Store By Type
Featured Products
Indian Groceries Online
Food / Masala / Dal ▶

Cooking authentic Indian food requires some unique spices and ingredients. Get premium quality gourmet food, spices, instant meals, lentils, flour, pickles and paste from top Indian brands delivered to your home across USA.

Indian Sweets & Snacks ▶

Mouth watering quality Indian sweets and spicy snacks made fresh in the USA and available in customized gift baskets.

Health & Beauty ▶ Large collection of natural and organic health & beauty products from India. Shop for Herbal, Ayurveda, beauty creams, skin care, home remedy books, yoga dvd, cushions, natural juices and much more.