Indian Grocery Store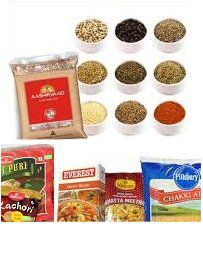 Looking for a store where you can buy Indian grocery online? As a leading desi supermarket, our online grocery store is a one stop shop in the USA that offers Free Shipping option and provides fresh and best quality groceries like atta, rice, dal, spices, masala, instant heat & eat meals & fresh sweets at cheapest price with seamless and contactless delivery anywhere in the USA. You can order premium quality online Indian staples from your favorite brands which you have trusted for years back home in India that can help you prepare any type of Indian cuisine.
People in India have a deep love for fresh desi food, and preparation of an authentic recipe requires special ingredients, spices and skill to make it easy. All the desi groceries, spices, sweets & snacks that you loved back home are now available here in the USA at our Indian online grocery store. Brands that you missed, like Brittania, Rooh Afza, Horlicks, Bru, MTR, MDH Masala, Haldiram, Gits and more can be ordered online. If you like to cook Indian food, you can also find many recipes to try your hand at some new authentic and best Indian dishes. For some of our busy customers, we provide Indian food and tiffin service. Soon, you will also be able to purchase edibles like perishables, frozen food, fresh produce and vegetables.

If you live in any of the following states like California, Texas, New York, Florida, New Jersey, Illinois, Virginia, Pennsylvania, Ohio, Maryland, Georgia, North Carolina, Massachusetts or Michigan; driving to an Indian grocery store to buy groceries can be a challenge. A trip to buy Indian groceries require wasting gas, sitting in traffic and then standing in line at the store. Moreover, when you do not have any grocery store nearby that carries traditional Indian items, ordering online and getting your desi grocery delivered to your home is the best alternative. You can do Indian grocery online shopping for home delivery from anywhere in the USA and use this time more productively with family & friends. Our prices are reasonable and we also offer free shipping on qualified orders.
The site offers 2000+ authentic imported desi grocery products online like gourmet food, masala, spices & herbs, rice, atta, dals, pickles, ayurvedic health products, instant snacks & meals, fresh mithai, dry fruits and much more; all ready for quick home delivery anywhere in the USA and help you skip waiting in line at the supermarket. For some of the popularly used lentils and spices, we also offer bulk wholesale groceries for restaurants and other retailers. We are also working hard to enhance our catalog for wholesale Indian grocery as well as add fresh produce, vegetables, fruits and frozen items soon. Shopping at desiclik.com is just like having an Indian grocery store near you with the convenience of getting it shipped to your preferred address.
Wondering where and how to sell Indian Groceries, Health & Beauty products, Skincare products, Yoga accessories, Patanjali Items, Henna Products, and fresh mithai in the USA? Please contact us and learn how we can help you setup your shop.
---
Shop Indian Grocery By Type
Featured Products
Most Popular
Indian Grocery
Indian Grocery Online in USA with Free Shipping Option
Do you have a question like; where can I buy Indian groceries online in USA? Welcome to the leading one stop Online Indian grocery store in the USA for a wide-range of south asian ethnic desi groceries to meet your daily shopping needs. Our exclusive range of grocery product includes best quality atta, Indian snacks, sweets, cookies & biscuits, rice, dals (lentils),flours, masala / spices, ready to heat and eat meals, bath & beauty products, pooja items and other favorite brands from India. Grocery is sold by multiple online Indian stores to provide you best quality, competitive price plus serve the needs to retail and wholesale shoppers. Continue browsing for Free Shipping deals & discounts on wide spectrum of online Indian groceries.
Why Trust us for your Indian Grocery Online Shopping Needs?
Desiclik.com is the largest and most trusted Online Indian Store for Desi Grocery delivery in the United States that carries both north and south Indian grocery items and offers 1000s of traditional and seasonal staples.
Huge inventory of Indian Grocery Online in the USA under one roof
Authentic Indian products & competitive pricing
Frictionless, secure & safe shopping experience
FREE SHIPPING on qualified orders or qualified products
Quick express delivery on many items, all items shipped from USA
Quality customer service both before and after sale
We can meet your needs on both retail and wholesale front with respect to Indian grocery and spices.

Indian Grocery Store Near Your Home
We are based in United States and deliver desi grocery or any of other Indian products to your doorstep all across USA including NY, NJ, CA, MA, MD, FL, IL, TX, VA, WA, in busy NYC area and others. Some of our most loyal customers are based in the Bay Area, Los Angeles, Jacksonville, Frisco, Irving, New York, New Jersey, Houston, Herndon, Tampa and many other cities.
It is like having an Indian supermarket near your home or searching for an Indian grocery delivery store near me for one stop online desi shopping experience that offers Free Shipping option. We look forward to meeting your day to day desi grocery needs and build relationship with each customer to become your preferred destination for delivery of Indian grocery to your home. Place your order for Indian products online from the convenience of your home or office; you are sure to be pleasantly pleased as Indian grocery shopping is just one click away!!!
List of 15 most essential Indian grocery Items
If you are just getting started with Indian cooking, here is a list of 15 most common items you would need to get going with some of the basic Indian recipes. This list can be useful for anyone visiting a grocery store to make sure you have enough stock at home for each of the grocery item listed below.
Basmati Rice, Atta / Flour, Masoor Dal, Chana Dal, Regular Toor Dal, Cumin Seeds, Mustard Seeds (Rai), Haldi (turmeric), Chilli Powder, Dhaniya (Coriander) Powder, Amchur, Garam Masala, Green Cardamom / Hari Elaichi, Asafoetida powder and bay leaf
Food / Masala / Dal Cooking authentic Indian food requires some unique spices and ingredients. Sometimes, it can be hard to find the masala you are looking for unless you search at an Indian store online. Our catalog offers premium quality groceries like Atta, lentils, gourmet food, spices, instant meals, lentils, flour, pickles, paste, biscuits and more from top Indian brands and delivers to your home across USA.
Indian Sweets & Snacks Get a taste of India with our mouth watering quality Indian sweets and spicy snacks made fresh in the USA and available in customized gift baskets to send to your friends and family during Diwali, birthday, eid or other occasion. Some of the popular sweets and savory snacks for any occasion are agra dal moth, all mix snack, almond flakes, desi pinni, angoori jamun, motichoor ladoo, milk cake, boondi ladoo, kaju katli, and balushahi to name a few. Check out Free Shipping within USA option on Indian mithai and snacks.
Health & Beauty Large collection of natural and organic health & beauty products from India. Shop for immunity boosters, Herbal supplements, Ayurveda Remedy, natural beauty creams, skin care, soaps & face wash, home remedy books, yoga dvd, cushions, natural juices and much more.