Dubbas - 3 Tier Insert Pans for PIP w/ Lids / Plates & Multipurpose Trivet
Description
LOVE your Instant Pot even more with Dubbas 3 Tier Insert Pans.
This stackable insert pan is one of a kind and a must have accessory for your IP.

Stainless steel 3 tier stacking insert pans to cook multiple things at the same time in your pressure cooker.

Fits 6 & 8 Quart Instant Pot and similar pressure cooker. Also fits other 6 QT and above stovetop pressure cooker or slow cookers, such as Kuhn Rikon, Power XL, Cuisinart, Fagor, Costaway, Faberware, T-fal, Elite, GoWise, Secura, Gourmia.

Package Includes:
7 Pieces - 3 Insert Pans, 2 Lids/Plates, 1 Steamer Lid and Folding Trivet / Sling with Easy Lift Handle.

Dimension:
Stacked: Max 6" Height, 7.5" Diameter
Nested: 3" Height, 7.5" Diameter.

Optional:3" Deep multipurpose Stainless Steel Pan compatible with Dubbas 3 Tier Set.

100% MONEY BACK GUARANTEE: If for any reason, you are not satisfied with our product, please reach out to us within 30 days for an exchange or full refund.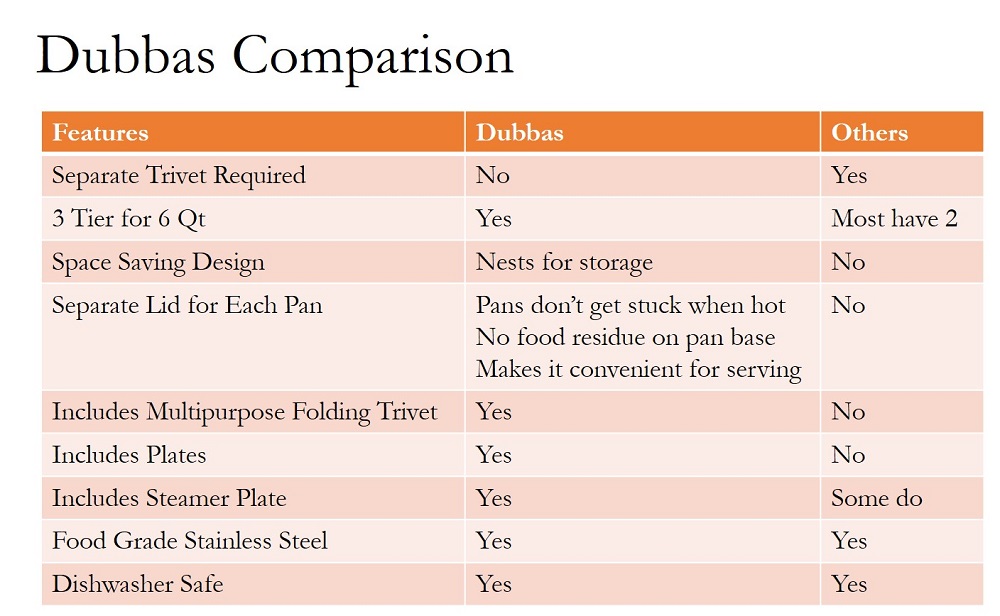 SAVE TIME with Dubbas - unique 3-tier insert pans made for Instant Pot and other similar pressure cooker. The insert pans stack for PIP cooking and can nest for storage. Plates and a multipurpose trivet are included. A must have among your collection of Instant pot accessories.

Multi-layer stacking pans enable cooking multiple things at the same time, thus saving time and energy consumption. But the major disadvantage with stacking pans is that they take up a lot of storage space, pans cannot be directly used for serving as food residue get stuck at the bottom of the pans after cooking and sometimes they are not easy to take apart as the pans get stuck into each other due to stacking. Our insert pans solve all of the above problems.

As if that wasn't enough, we included lids which can be used as plates for eating AND a multipurpose trivet. Not only does the trivet help in moving the insert pans as a complete unit that can be easily put into and lifted out of the IP, it also works with Pyrex bowls, cake pans, bundt pans and any of your favorite containers that can fit on it. And the one-hand easy-lift feature of the trivet makes lifting hot food out of the pressure cooker a breeze! Goodbye hand-made aluminum foil lifts! So get on with your PIP (Pot-In-Pot, for those of you that do not favor acronyms) cooking! With Dubbas you can give your dishwasher a break - Cook, Serve, Store & Reheat all in the same insert pans!

They are made from 100% food grade stainless steel and designed to completely nest inside each other for storage. And since they take up less cabinet space, you could even buy more than one set!

Indispensable for making curry, steaming vegetables (we've even included a steamer plate), cooking fish, meat, dumplings, rice, pasta etc. all at the same time.

If you love your Instant Pot, you will not deny it our nesting & stacking insert pans. Oh, and you can gift it to your family and friends too! Maybe they will show you their gratitude by cooking for you - one can always hope!

Features:
Cook: 3 Tier Stacking Insert Pans. Fast PIP Cooking, Cook multiple items at the same time.
Serve: Use the included plates to Serve or use them as lids.
Store: Space-Saving Nesting Design for Compact Storage. Each pan has it's own lid which prevents food residue from getting stuck at the bottom of the pans, avoids the pans from getting stuck each other when hot and makes it easy to store left over food in the fridge.
Reheat: Interchangeable Lids & Pans. Stack and reheat all the pans or only the ones you need.
Multipurpose Folding Trivet with Interlocking & Easy, One-Hand-Lift Handle.
Rounded Rims for Improved Safety.
2 Vents in Each Pan for Equalizing Steam.
Durable Construction.
100% Food Grade Stainless Steel.
Dishwasher Safe.
Eco-Friendly & BPA Free.
Gift Ready Packaging.
VERSATILE:
Trivet: Separate trivet not required. This cooking device comes with a multipurpose folding trivet with an integrated easy-lift handle. The base platform of the trivet is raised by .5" for easy flow of more than a cup of water. The trivet has folding frames and a locking mechanism to keep the containers securely in place. The trivet is multipurpose and can also be used with insert pans, springform pans, Bundt pans, Pyrex bowls and other similar containers with diameter between 7" to 7.5".
Pans & Lids/Plates: The stainless steel pans and lids/plates make it easy to cook, serve, store and reheat. This reduces using extra utensils and saves on energy. Nest them for storage & stack them when you want to cook in them. Three lids included, two of which also serve as plates while one is a steamer plate. You can get creative with Dubbas. The positioning of the pans and the lids/plates is interchangeable, so you can configure them as per your cooking need. You may choose to use either single insert pan, 2 or all three inserts at the same time to cook depending on your cooking need.
In a 8 Qt Cooker, you can even place vegetables to steam on the steamer plate.
CONVENIENCE:
Save Time: Fast PIP (Pot-In-Pot) Cooking, Cook multiple items at the same time.
Save Space: Space-Saving Nesting Design for Compact Storage.
Portable: Included folding Trivet has an easy one-hand-lift handle which makes it easy to replace the entire unit to and from the cooker.
Less Messy, Separate Interchangeable Lid for Each Pan: Prevents food getting stuck at the bottom of the pans, avoids each pans from getting stuck when hot and makes it convenient for serving and storing in the fridge.
Save Energy: With Dubbas you can give your dishwasher a break - Cook, Serve, Store & Reheat all in the same insert pans!
SAFETY:
Safe to use, made from 100% Food Grade Stainless Steel.
Rounded Rims for Improved Safety.
Each Pan has 2 vents for Equalizing Steam.
Pans do not topple as they are secured using the trivet frame.
How to use stacking insert pans in Instant Pot:
Add minimum one cup of water or more as recommended to the bottom of the Instant Pot cooker and place the locked & stacked Dubbas inside the cooker.
The bottom pan cooks slightly faster than 2 of the top pans. Place items that take a little longer to cook in the bottom pan.
For cooking items like Pasta or Rice - you will need water in both the pans - the inner pot of your Instant Pot to generate the necessary steam to pressure cook AND water in the Dubbas Pan containing pasta or rice.

Package Includes: 7 Pieces
- 2 Insert Pans with 7.5" diameter and 2" height
- 1 Insert Pan with 7.5" diameter and 1.25" height
- 2 Lids/Plates with 7.5" diameter
- 1 Steamer Lid with 7.5" diameter (Can also be used as trivet by using upside down)
- 1 Folding Trivet / Sling with interlocking and easy lift handle.

Package Weight: 2.85 lbs

Care & Cleaning:
Leave the Dubbas pieces to dry after each wash before nesting & storing in cabinet to avoid spotting marks.

Designed in USA, Made in India
*Patent Pending

NOTE: None of the component of the Dubbas - Insert Pans, Plates, Lid or the Trivet should ever be used in microwave oven. The handle is hot when used in cooker, please use precaution when taking out the Dubbas.

Disclaimer: Use of Pyrex, Corelle or similar glass bowls have not been certified by any of the manufacturer to use in any Pressure Cookers. Please use at your own discretion.

Instant Pot NOT Included with this purchase.
UPC
702443573515
Color
Stainless Steel
Size / Measurement
7.5" Diameter X 6" Height
Material
Stainless Steel
Usage
Cookware / PIP
SKU
DUBBAS01
Price

$34.99

-

$49.74

Shipping Weight

2.50

lbs
Collection
Utensils from India
Condition
New
Payment
This item in Utensils from India category was first added to our catalog on 07-12-2018.
Buy Instant Pot Kit online at best price in the USA. As a leading online Indian store, we offer great deals on Utensils from India (Indian Cookware) like Dubbas - 3 Tier Insert Pans for PIP w/ Lids / Plates & Multipurpose Trivet with FREE Shipping option.
This Traditional Kitchenware & Utensils of India Indian Cookware collection has been tagged as dubbas,instant pot steamer pans,dabbas cookware,indian separator for pressure cooker,stacking pans for ip pip,instapot cooking,dabba container,dhokla stand,pans for cooker,cooking utensil,instant pot kit,pot-in-pot insert basket,instant pot accessory,stac.


Please Note: All products sold online on Desiclik.com are brand new.

Suggested & Popular Searches...
10 Most Useful Customer Reviews
Insert Pans / Steamer for Pressure Cooker 6 & 8 Qt Instant Pot
Most Versatile 3 Tier Nesting Insert Pans with Lids for Instant Pot PIP Cooking
InstaPot Slow Cooker 3 Tier Stainless Steel Insert Pans
Unique Nesting Insert Pans for Instant Pot w/ Lids & Trivet
Dubbas - 3 Tier Stackable Insert Steamer Pans for Instant Pot
3 Tier Stackable Insert Pans for Instant Pot PIP to Cook, Serve, Store & Reheat
Multipurpose Trivet with One-Hand Easy Lift Handle
Stainless Steel Trivet / Slink for Instant Pot Holding Pyrex Bowl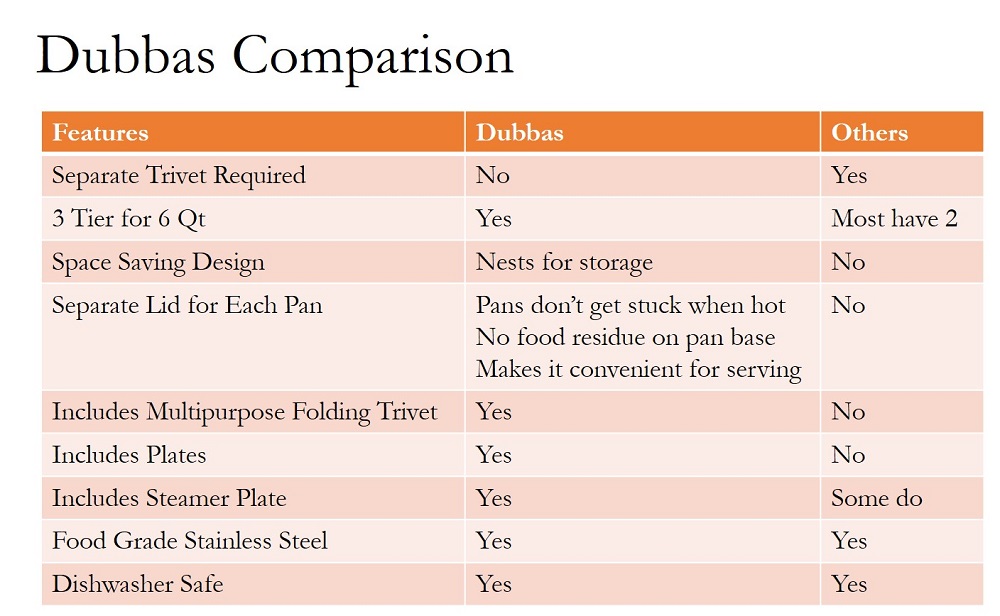 Dubbas Comparison with Other Stacking Insert Pans
Dubbas Insert Pans w/ Plates/Lids & Multipurpose Folding Trivet
Optional 3" Deep Multipurpose Stainless Steel Pan for IP
Dubbas - 3 Tier Stackable Insert Pan is a must have accessory for any Instant Pot owner. It can help you save significant amount of time by helping you cook 3 separate dishes at the same time in your IP. It comes with 3 pans, 1 trivet / sling, 2 solid lids and 1 steamer lid.
You May Want To Consider
You May Also Like