Home Furnishing & Electronics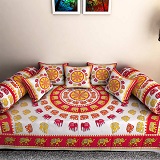 Home furnishing is an integral part of home decor and the type of furnishing we use at home also depicts our culture and background. Many people prefer ethnic styles while others opt for classy contemporary type. We offer many choices in both styles.

Shop online for Indian home furnishing like Indian decorative, cushion covers, Diwan Set, curtains, bed spreads and more. These products are mostly imported from Rajasthan, Gujarat, Bengal and South India. Indian home furnishing products are known for their artwork, embroidery and prints. You can find them in bold and beautiful colors. They also make unique gifts for housewarming, wedding and other occasions.

We also offer a wide variety of electronics like convertors, electronics, cosrdless phone & accessories.
Featured Products
Trending Now
Type: Cushion Set
Material: Silk with brocade gold work

Measurements:
Cushion Covers - 16" X 16"

Includes the pillow inside.
Free Shipping on $150+ Order*
Coupon Saving*
Light Lilac trim to create your own designs and crafts. Satin finish ribbon embellishment. Use it to decorate lamp shades, boxes and to beautify garment edges or gifts at wedding etc.
Save 20% with coupon*
Most Popular
Furnishing