Traditional Indian Artificial Jewelry Online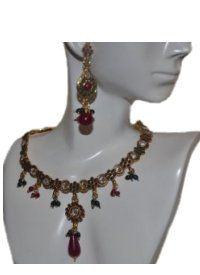 Traditional Indian Jewelry design gets its inspiration from nature, gods & goddesses. These ornaments (aka Abhusan in hindi) are available for almost every part of the body. Apart from designer necklaces, earrings, bracelets and rings, there are payals for ankles, mang tikas - a head piece jewelry for the forehead, nose pins and nose rings (nath in hindi), jewelry belts / latkans for the waist and armlets for the upper arm. Our alluring handmade jewelry collection can help complement any western dress or formal Indian attire. They are all available at discounted prices, in a variety of colors, designs, and styles. Looking to buy jewelry for a specific event? Continue browsing our ornaments catalog for wedding, mehndi, sangeet, Diwali, Eid, Navratri, Garba and kids jewelry.
If you are looking to buy Indian artificial jewelry online, browse our store for timeless and ageless jewelry that you will cherish for life. These unique pieces of art are typically handmade jewelry sets and are crafted using kundan, mina, pearls, terracotta, beads and stones to capture the essence of Indian traditions. If you like themed jewelry; check out our catalog of religious, Bollywood, Gold plated & fashion Indian jewelery sets. If you are into earrings, browse our jhumka and chand bali earrings for a unique look.
If you stock contemporary, wedding, handmade or unique ethnic/fashion Indian jewelry in the USA and are wondering how to sell them online, please contact us and learn how we can help you create your online shop.
---
Shop Jewelry By Type
Featured Products
Most Popular
Jewelry
Traditional Indian Fashion Jewelry
Our Online Indian store offers a wide range of latest fashion contemporary & traditional jewelry of India to go with any dress. It is just like searching for an Indian store near me for ethnic Indian jewelry with free shipping option. Many of our inimitable crafted ornaments like chokers & jhumkas are gold plated and handmade from Kundan, Mina, Pearls and Terracotta following an age old jewelry making practice that brings out the essence of Indian culture. These are great for your own collection or as gifts on mother's day or valentines day.
Fashion Jewelry Stylish & Contemporary yet Traditional is what defines our unique handmade fashion jewelry made from kundan, mina, pearl, gold plated, clay / terracotta and oxidized metal.
Designer Jewelry Designer bridal & wedding jewelry collection to match your lehenga, saree or your favorite wedding gown.
India Silver Jewelry Beautiful collection of silver payal / anklets, bangles / kada, baby shower gifts, diwali coins and hindu god idols & statues.