Puja Items, Gift Baskets & Festivals Gifts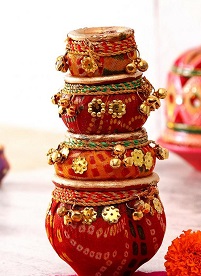 Any festival celebration around the world is tied to sending gifts to family & friends. Festivals (Utsav in hindi) in India vary by religion, state & culture. Some are celebrated with more enthusiasm in some states than others. Example, people in the north celebrate Diwali with great enthusiasm while for West Bengal Durga Puja sees the most festivities. Ganesh Chaturthi is one of the biggest festival in Maharashtra, while Pongal is the major festival down south. Whatever is your background, whether you are Hindu or Muslim; celebrating any festival is tied to certain religious activity. Apart from specific puja related items, the most common ingredients in celebrating any festival is Indian Sweets for guests, family and friends.


Our online puja and festival store offers exclusive products to complete your shopping for all major Indian festivals & puja like Diwali, Holi, Puja, Rakhi, Eid & more. You can find latest fashion festival theme clothes, traditional gift baskets, diyas, holi color powder, rakhee, sweets, gift hampers, puja samagri, holiday gifts, decorated thalis, coins and other puja items to multiply your joy. We can also create custom gifts for corporate clients based on your budget and ideas that includes Indian sweets, silver coins and dry fruits etc. Bulk orders can be shipped within USA and India.
---
Shop Puja & Festivals By Type
Featured Products
Bestseller
Free shipping
Small Ganesh Chatruthi Statue (Eco- Friendly for Immersion)

Dimensions: 90mm X 60mm (3.5 inches height X 2.35 inches width)

Made out of Villianur clay this eco- friendly Ganesh Idol is ideal for Ganesh Chaturthi Visarjan.

Villianur Terracotta is one of the first to receive the GI (Geographical Index) tag in the handicrafts category.
Popular
Bestseller
This is an all aluminum silver color bajot table (chowki) with carving in traditional pattern. Use it in your puja ghar as a base for setting up hindu god deity. It can also be used as as a small stool for eating, home décor or at wedding.

Top Design of the product image will be different other than design mentioned in the product image on the portal
Available in different square sizes -
Small - 12" L * 12" W
Medium- 15" L * 15" W
Large - 18" L * 18" W

Puja & Festivals
Pooja Samagri & Traditional Indian Festival Gifts
Celebrate Indian culture & festivals with us. Shop from an array of products to celebrate diwali, holi, rakhi, eid, religious ceremony or hindu puja. Looking to send traditionally packed gift baskets to friends & family in the USA? We have fresh mithai / sweets, diyas, rakhis, holi color powder, gift ideas for corporate clients, wedding, engagement, housewarming return gifts or any other occasion.
Festival Shopping

Start your Indian festivals shopping here. Diwali diyas, traditional gifts, rakhis, sweets baskets, holi color powder, puja kids and hindu god idols and much more.

Puja Samagri & Gifts

As a leading desi supermarket, we offer largest collection of Hindu puja items online in the USA with Free Shipping option. It is like searching for Indian Store for pooja items online near me. Our complete online hindu puja store has myraid of religious pooja items collection to awaken your inner piece. Continue browsing the site for small pooja mandir for home, essential pooja samagri, god statues for home or car, pooja thalis, temple decor, home decor, unique religious gifts, traditional return gifts, all-in-one pooja kits and much more.

Gifts & Flowers Send gifts & flowers to your near & dear ones in India.