Traditional Kitchenware & Utensils of India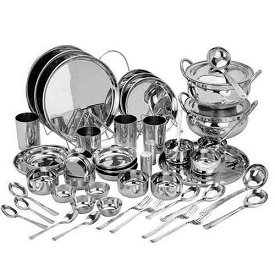 It is more common to find stainless steel utensils than china in Indian homes. These stainless steel Indian style utensils (aka bartans in hindi) are eco-friendly, durable, cleans well and are less expensive. Also, the various size bowls (katori in hindi) used for serving different types of cooked vegetables and chutneys or the various size pots and containers used for cooking are hard to find in any other material other than stainless steel.

The most common Indian kitchen utensils (bartan) you can find in many Indian kitchen are chakla belan, chimta / pakkad, tawa, pressure cooker, kadai / wok, shifter / chalni and Jaara. We offer many choices in Indian kitchenware & cookware, dinnerware, cookware and utensils to shop that helps to organize your kitchen or to serve authentic Indian food in a traditional way.

For organizing your kitchen, we have ghee container (aka ghilodi in hindi or ghee pot), spice storage box (aka masala dabba in hindi), rice spoons and other storage containers.

For serving Indian food, you can shop for stainless steel dinnerware, drinking cups, plates (aka thali in hindi), traditional Indian lunch box (tiffin) for kids & adults, various size katori / bowls and much more. In addition to stainless steel dishes, we also offer a large range of copper dinnerware sets that include thali, bowls, cup and spoon. As per Ayurveda, copper utensils are also known to have health benefits.

For cooking Indian food, we offer a wide range desi style Indian cookware like cooking pots & pans, wok, biryani handi, degchi, kadai, tawa and patila in various sizes that are best suited for any kind Indian cooking need. These are the most common types of cooking utensils that are used in India.

As a large Indian style stainless steel utensils, kitchenware & cookware supplier in the USA, these items are available at both wholesale & retail prices for home and restaurants. Some of the large items we carry for restaurants are kadai, chaffing dish and server ware in both copper and steel. They are made of high quality durable stainless steel or copper. They also make unique traditional Indian gifts on wedding or housewarming.

Are you supplier of stainless steel or copper utensils in the USA? Please contact us and learn how we can help you grow your business.
Most Popular
Utensils
Indian Style Utensils, Cookware & Kitchenware for Home & Restaurants
As a leading desi supermarket, our Indian store online is a one stop shop in the USA for serving utensils, cookware and kitchenware for home and restaurants. We offer lowest price and Free Shipping option within USA on 1000+ items to meet your daily shopping needs. Find great deals and discounts on best Indian cookware, kitchenware, pressure cooker and eco-friendly stainless steel utensils (bartan) from India like masala dabba, lunch box, thali / plate, idli maker, katori / bowl, glass, dinner sets, ghilodi, small and large kadahi, patila, handi and much more to help you organize and serve food in a traditional way. They are safe and durable and available from top Indian brands.