Handicrafts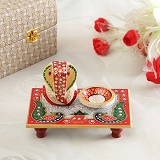 Handicrafts act as an identity for any country and it is more so for Handicrafts from India due to the sheer variety and elegance that mark each kind that is the specialty of a particular state in this vast country. Every little village in India has a unique story to tell and it does so through these crafts & decor. No Indian
home decor
is complete without a few of these traditional decorative artifacts or handicraft items.
We help connect our customers in the USA with artisans in these towns & villages by offering a piece of their creation like Handicrafts, Wooden Crafts, paintings, artwork, wall arts & hangings, tapestries,
statues
, idols and varied accessories online. These can add a little touch of ethnicity and Indian-ness to the homes they go to. These handicrafts are available in varied materials like terracotta, metal, glass, leather and carved wood. Big or small, we have every kind that will suit and fit your home and decor style seamlessly or as a traditional return gift on housewarming, wedding or pooja. Some of our most popular handicrafts are from Rajasthan, Gujarat and Bengal. These 2000+ imported handmade artisan crafts also make great unique gifts for any home or office.
Wondering how to sell Indian handicrafts online in USA? Read our FAQ to learn more or contact us.
Featured Products
Most Popular
Indian Handicrafts & Handmade Home Decor