Outdoor Indian Games for Kids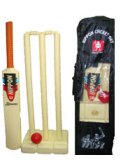 Enjoy the outdoor games that you loved to play in India - kids cricket bat, plastic cricket set with stumps, bat and ball, hockey, carrom board and more.

These outdoor Indian games set also make a great and unique gifts for a birthday.
Most Popular
Outdoor
Indian Style Games Online Shopping
Our most popular outdoor Indian games for kids are travel chessboard, cricket bats and badminton which are appriopriate for children of all ages.