Carrom Boards, Cricket Sets & Games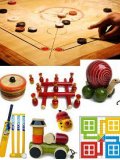 Are you having a hard time buying carrom board or cricket set for kids in the USA? The indoor Indian games that you loved to play in India are now easy to find in the USA. Our collection includes Ludo, Chessboard, Indoor Cricket Sets, plastic cricket bat ball and stumps, Carrom Board, chess board and much more are all available with Free Shipping option on select items.

Winter time in the east coast can be really harsh. It forces you to stay indoors for 3 to 4 months. This time can be certainly better utilized without spending on Video Games but rather have some family fun time. Our games do just that:

Carrom Board: This is a fun filled family game that can be enjoyed anytime. It is a popular indoor game across south-asian. Although there is no concrete evidence found, it is believed that this game was invented in India and used to be played by royal families. It can be played by 2 or 4 people. Anytime is a good time to play this game. It is played on a smooth surface wooden board with 4 holes in the corner and played with wooden coins and striker. The objective is to get your coins in the holes using the striker. We have both kids and professional quality carrom boards in stock.

Chess: If you did not know, the game of chess originated in India. It used to be the game of royal families in the past and was called Shatranj - now known as Chess.

Ludo: This is an indoor board game that is a simpler version of Indian game known as Pachisi. It is a game for 2 to 4 people. It is played with 4 color tokens and dice. The objective is to take your tokens home while eliminating opponents tokens on the way.

Cricket: Originated in England, cricket is one of the most popular game in India. We have kids size cricket bats and ball available to enjoy this game indoor or in your backyard.


Most Popular
Indoor
Indoor Games - Carrom Board, Cricket, Ludo & More...
Our most popular indoor Indian games for kids are carrom boards, ludo sets, chessboard, plastic cricket bats which are appriopriate for children of all ages.