Traditional Indian Furniture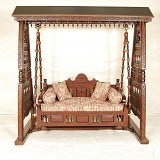 Indian furniture is famous for its artistic carving artwork and antique look. The handcrafted carving and designs on these Indian style furniture are very traditional and generations old. Imagine your living room with a wooden carved maharaja
jhula for home
or antique looking
carved chairs
set or a bajot with flower pot. You are sure to get complements from anyone visiting and admiring these beautiful ethnic home decors. We offer both antique carved as well as modern furniture imported from India which can provide an ethnic style home decor and ambiance to any home decor style. Our catalog includes wooden Indian wall arts, jharokha sofa set, cabinets & chests, coffee tables, traditional jhoola / swings for living room, large showpieces & statues and Sankheda style furniture for our customers in the USA. Our suppliers are some of the largest Indian furniture importers in the USA so you can expect to buy these online at the best price.
If you plan to sell Indian furniture like carved tables, chairs, jhoola online in the USA, please contact us and learn how we can help you setup your Indian furniture store online.
Most Popular
Furniture
Indian Style Furniture Online Shopping
Indian furniture reflects an age old tradition and art form plus they last for ages. These furniture pieces are imported from India and they are available for purchase online and can be shipped anywhere in the USA. Many pieces of art are also available with free shipping option. Traditional home decor, wall hanging, Indian handicrafts and much more to decorate every room in your home are all available at this Indian furniture store in the USA..
Indian Jhoola / Swings Looking to bring some ethnicity to your home? Check out our traditional design artisan crafted Indian Jhoola for Sale that you can use in any room in your home. A wide array of wooden swings collection to match your existing home decor.