Fresh Made Motichoor Laddu, 1 Pound
5% Off Coupon
On orders over
$3.00

For Next 110 Customers

Expires: Mar 2, 2021 12:16:13
Available to New Customers
Only One Coupon Per Order
Sold & shipped by:
Bengali Sweet House
Shipped from:
New Jersey, United States
Ships In:
Usually in 2 to 3 business days

Estimated Delivery:
Between 03-06-2021 - 03-09-2021
Ships To:
Only within United States
Shipping & Return:
Accepted (exceptions may apply)
View Shop Policy
Trusted & Safe Shopping
Description
Content: 1 Pound (8-9 pcs/lb).

Motichoor laddoo is an excellent traditional gift for Weddings, Birthdays, festivals or as party favors.
The hardness of this age old delicacy is controlled by the amount of sugar.
The ones with less sugar are softer and better for your taste buds.
Our tasty Moti Choor ladoos are so soft that they dissolve in mouth quickly and leave a long lasting taste.

- Available in gift boxes of 4 pcs, 9 pcs and 21 pcs.
Major Ingredients: Gram Flour, Ghee, Corn Oil, Water, Sugar, Saffron, Almonds, Cashews, Pistachio.

*Our sweets are made fresh using traditional recipe by real chef.
VERY SOFT DUE TO LESS SUGAR.
Refrigerate upon receiving - serve at room temperature for best taste.
SKU
BSH137
Price

$12.99

-

$15.49

Shipping Weight

1.50

lbs
Collection
Indian Sweets Online
Condition
New
Payment
This item in Indian Sweets Online category was first added to our catalog on 05-01-2013.
Our Indian store online in the USA offers Indian Sweets Online (Indian Sweets) like Fresh Made Motichoor Laddu, 1 Pound to buy at best price with very low delivery charge.
This Fresh Indian Sweets & Desserts Laddu Mithai collection has been tagged as Laddu Mithai, Ladoo, Laddu, Prasadam, Gift Box, Indian Mithai, Motichoor Ladoo.


**Note: Incorrect shipping address my result in surcharge of $15.00. Some products require express shipping for west coast. We DO NOT ship to PO BOX. Disclaimer: Actual GIFT BOX MAY DIFFER, product packaging may have additional details about ingredients.




Please Note: All products sold online on Desiclik.com are brand new.

Suggested & Popular Searches...
8 Most Useful Customer Reviews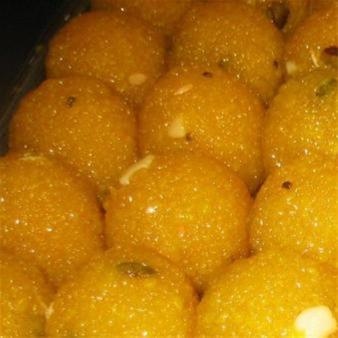 Product Q & A
Have a question? Need more information? Ask our community.
Q
Do you find this helpful?
YES
NO
Asked by Fran Manuel on Jul 20, 2018
A
Yes, these ladoos do come in a box.
Answered by Deslclik.com on Jul 24, 2018
---
---
Q
Do you find this helpful?
YES
NO
Asked by Maya on Oct 15, 2018
A
Thanks for your inquiry.
By UPS ground - it may reach by Friday. You may select 3 day express so you receive by thursday. Please make a note during checkout so it is shipped out today if you order before 3 pm.
Answered by Deslclik.com on Oct 15, 2018
---
---
Q
Do you find this helpful?
YES
NO
Asked by KK on Jul 26, 2019
A
Thanks for reaching out.
1 lb contains around 8 to 10 ladoos. You can get 2 lb box, just specify that in checkout notes. It will 2 to 3 business days to deliver once you place your order.
Answered by Deslclik.com on Jul 29, 2019
---
---
Q
Do you find this helpful?
YES
NO
Asked by Randy Turner on Dec 30, 2020
A
It is recommended to store the ladoos in the fridge and serve them at room temperature for best taste. It should last for a week to 10 days. If it is at room temperature, it should be good for 2 to 3 days.
Answered by Deslclik.com on Dec 30, 2020
---
---
You May Want To Consider
You May Also Like