Tandoor, Stainless Steel Square Gas Tandoori Oven for Restaurant
5% Off Coupon
On orders over
$3.00

For Next 306 Customers

Expires: May 24, 2021 13:54:18
Available to New Customers
Only One Coupon Per Order
Description
Stainless steel square tandoor for restaurants or catering. Ideal for any type of north Indian cooking. This tandoor clay oven comes with all the accessories need to get you going with your cooking.

Specification:
Material: Durable stainless steel
Operates using natural gas or charcoal.
Well insulated barrel inside.
Wheels at the bottom for easy portability
Handles on 2 sides for easy mobility
60,000 BTU
Weight: 400 Lbs approximately.

Measures:
32" width
32" depth
36" height
Mouth opening - 14" diameter

Comes with 1 year warranty.

Includes:
Kebab sticks - 8 pcs
Roti sticks / skewers - 2 pcs
Roti pad / gaddi - 1pc.

Uses charcoal. Can also run on propane or natural gas with assembly.

Optional:
Includes Gas Plate and Gas Burner with regulator with on/off switch
This Tandoor Can operate using charcoal. If you want to operate this using natural gas, the Gas Burner must be installed by a certified plumber.



Disclaimer:
THIS IS A NON-NSF TANDOOR and is NOT ETL/CSA certified. Certain states require these appliances to be certified by NSF.
Gas tandoor equipment used at restaurants in the USA must be ETL/CSA certified for Gas safety. Please make sure to check your county / state local code before purchasing / installing any type of Gas Equipment. This Tandoor Can operate using charcoal. If you want to use with natural gas, the Gas Burner MUST installed by a certified plumber.

Warning: Please take precaution when using any type of tandoor. Use it at your own risk.
ALL SALES ARE FINAL.


SKU
SKU16610
Price

$1,475.00

Shipping Weight

400.00

lbs
Collection
Indian Cookware
Condition
New
Payment
This item in Indian Cookware category was first added to our catalog on 09-16-2014.
Buy Tandoori Oven online at best price in the USA. As a leading online Indian store, we offer great deals on Indian Cookware (Tandoori Oven) like Tandoor, Stainless Steel Square Gas Tandoori Oven for Restaurant with FREE Shipping option.
This Traditional Indian Cookware & Kitchenware (Tandoori Oven) collection has been tagged as Indian Cookware, Restaurant Supply, Gas Tandoor Sale In Usa, Cookware, Restaurant Appliance, Tandoori Oven, Cooking Appliance, Roti, Nan, Kulcha, Gas Tandoori Oven.


Please Note: All products sold online on Desiclik.com are brand new.

Suggested & Popular Searches...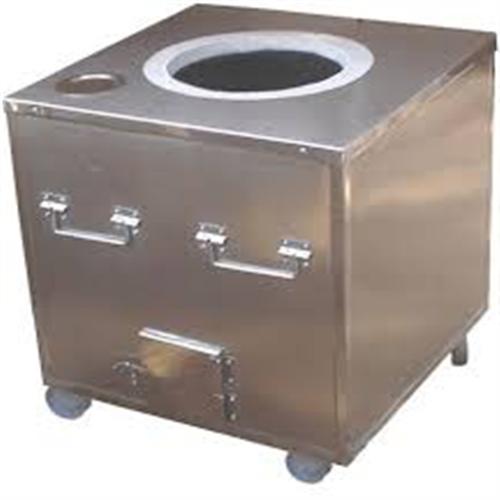 Gas Burner for Tandoor Oven
Baffle Gas Plate for Tandoor Oven
Tandoori oven for restaurant use
Product Q & A
Have a question? Need more information? Ask our community.
Q
Do you find this helpful?
YES
NO
Asked by Jesse on Jun 21, 2018
A
This tandoor does come with the gas kit - burner and baffle plate. It does not have a pilot. We do have other models available with pilot and thermostat.
Answered by Deslclik.com on Jun 22, 2018
---
---
Q
Do you find this helpful?
YES
NO
Asked by Taran on Apr 6, 2021
A
The inside pot of the tandoor is made of clay.
Answered by Deslclik.com on Apr 6, 2021
---
---
You May Want To Consider
You May Also Like