5% Off Coupon
On orders over
$3.00

For Next 45 Customers

Expires: Jan 31, 2021 15:13:53
Available to New Customers
Only One Coupon Per Order
Description
Pani poori is one of the more popular snack in India. Serve this famous appetizer of India in authentic Indian style.

This pani puri counter table is a complete set to serve pani poori and various chat.
Includes - traditional style umbrella, utensils, table and table cover.

Easy to setup. Ideal for restaurants or wedding party, catering etc.


Complete SS Pani Puri Chat Table

Following items are included:
Umbrella – Decorative Umbrella with traditional embroidery work
Table – Length: 44 inch X Height: 34 inch, Width: 34 inch approximate Stainless steel 304 Quality
Gastronom Pan Size: 1/4 x 150 = 3 No. Acrylic Puri Box
Utensils – 3 Stainless steel Pan / serving tray with lid for storage of Chutney, Moong, Chana and Matka for tamarind water. Pani puri storage box.


SKU
SKU16615
Price

$1,099.00

Shipping Weight

250.00

lbs
Collection
Indian Cookware
Condition
New
Payment
This item in Indian Cookware category was first added to our catalog on 09-16-2014.
We offer Traditional Indian Cookware & Kitchenware (Restaurant Supply) like Pani Puri Cart / Chat Buffet Display Counter on Wheel (Restaurant Supply) at best price in the USA with very low delivery charge.
This Restaurant Supply collection has been tagged as Tandoor, Tandoori Oven, haiti wedding buffet counter, Traditional Indian Chaat, Spicy Snacks, Event Planning, Catering Restaurant Supply, Paani Poori, Indian Fast Food Cart.


Please Note: All products sold online on Desiclik.com are brand new.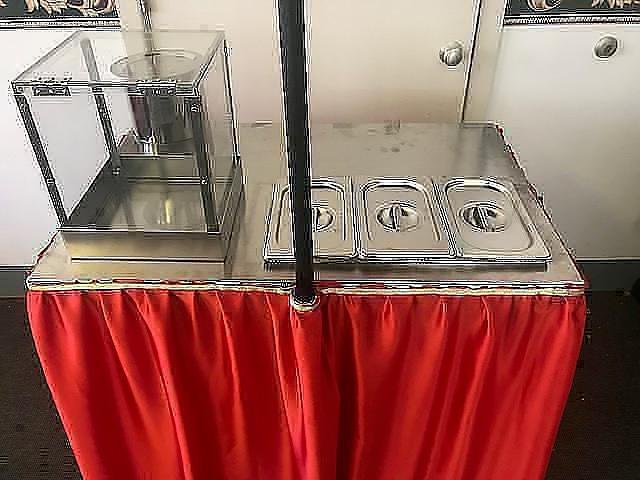 Pani Puri Catering Cart
Pani Puri Counter for Restaurants
You May Want To Consider
You May Also Like