Decorative Hindu Deity Radha Krishna Idol
Sold & shipped by:
Yaadein
Shipped from:
New York, United States
Ships In:
Usually in 2 to 3 business days

Estimated Delivery:
Between 12-17-2023 - 12-21-2023
Shipping & Return:
Accepted (exceptions may apply)
View Shop Policy
Trusted & Safe Shopping
Description
Beautifully decorated Radha Krishna idol in standing pose to decor your mandir at home. The minakari chowki in the above picture is optional.

Krishna is known as purna-avatara or full incarnation of the supreme god Vishnu. Krishna is often portrayed as an infant or young boy (also known as laddu / ladoo Gopal) playing a flute or eating butter, and as a youthful prince giving guidance about Karma as in the Bhagavad Gita.

The stories of his play with Radha and other gopis became known as the Raslila. These later became as part of Krishna bhakti traditions worshiping Radha Krishna.


Available in 2 sizes:
Small: 2" W * 4" H, Base is 2" in diameter
Medium: 3" W * 6" H, Base is 3" in diameter
Large: 4" W * 7" H, Base is 4" in diameter.

Material: Fibreglass
Used for - prayers, religious puja, mandir statue and more.

Note: Platform / Meenakari Chowki is sold separately and not included in the above price. This item in Religious Figurine & Sculptures category was first added to our catalog on 06-28-2017.
Buy Idols & Statues online at best price in the USA. As a leading online Indian store, we offer great deals on Religious Figurine & Sculptures (Idols & Statues) like Decorative Hindu Deity Radha Krishna Idol with very low delivery charge.
This Hindu Statues, Religious Gifts & Home Decor collection has been tagged as Radha Krishna Murti, Hindu Religion, Moorti, Indian Handicrafts, Home Decor, Hindu Deity.


Please Note: All products sold online on Desiclik.com are brand new.

Suggested & Popular Searches...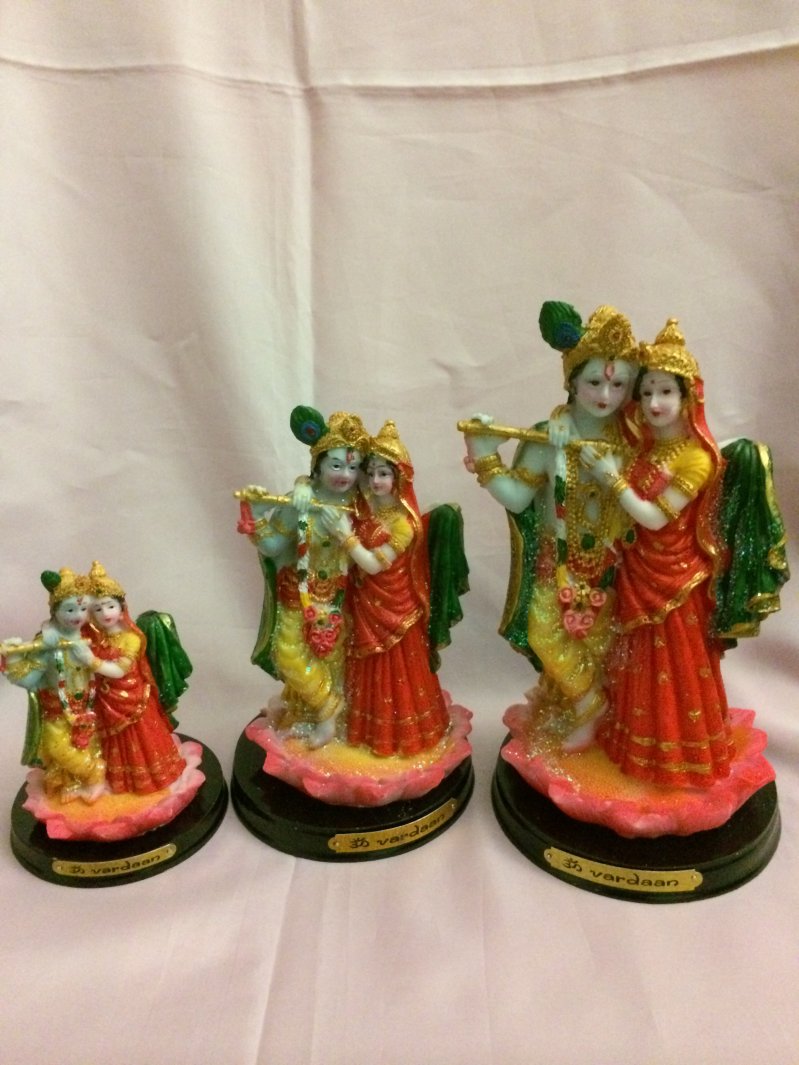 Radhana Krishna Statue, 7" high
You May Also Like